Have you ever wondered how you would go about lengthening the sleeves of the FREE MariaDenmark Kirsten kimono tee pattern (which you get, when you sign up for my newsletter)? Carina and a bunch of other people did, they wrote me and asked, and here I 'll tell you all how.
Today I'm starting my "Ask Maria" or Q&A series. I haven't completely decided what to call it yet – but I would LOVE your input! Anyway. Here is the first installment:
How to:  Lengthening the sleeves of the Kirsten Kimono Tee:
So. Carina wrote me and asked:
Hi! I have a question. I Have made a lot of shirts from the Kirsten Kimono Tee pattern and like it a lot. But I would like to lengthen the sleeves a bit. Can you give me any tips on how to do that?
Hi Carina. I love sewing the Kirsten Kimono Tee as well. I've made it with many different necklines and I love that it's just so fast to sew. When I need a quick basic sew – this is my go to. Even just in plain grey or black for basics to go with statement items such as animal print trousers or skirts with other prints. I have made a few longer sleeved versions – and I've also included longer sleeves with my other kimono-style pattern: the MariaDenmark Olivia Oversize Tee, (which, as the name states, has a bit more ease than the kimono tee).
So. Lengthening the sleeves.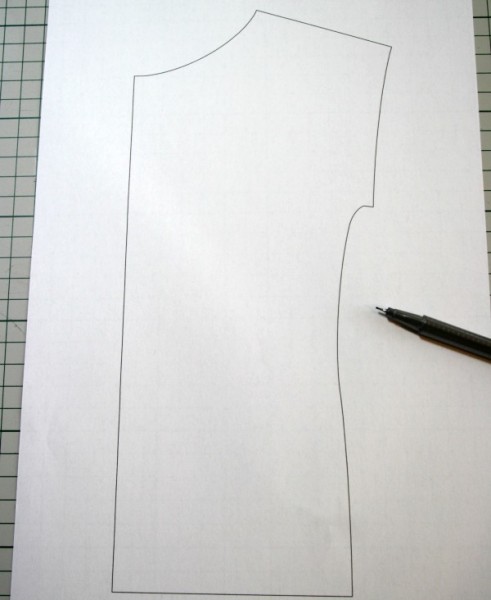 I start of with my basic pattern (here on the photos it's a half size pattern, to make it easier to get everything within the frame). Here it's the front piece, but you have to do the exact same thing on both the front and the back!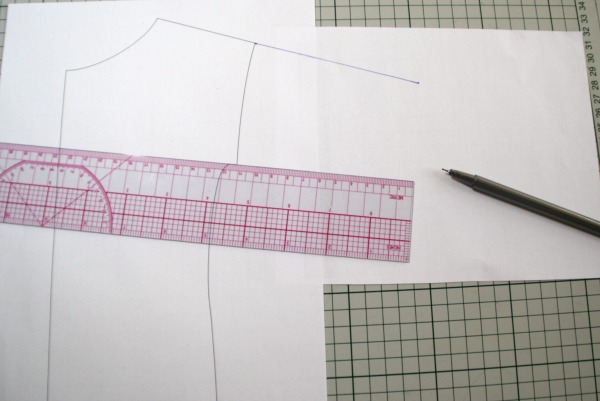 Then, I decide on how much, I want to lengthen the sleeves. I am going for a 3/4 length sleeve, and am lengthening the sleeves with 23 cm (9 inches).
I simply get out my ruler, line it op with the shoulder seam, and continue the line for 23 cm. Then I do the same with the underarm seam. Measure the distance between the end of the two lines, double the number and check that it will fit around your arm (the back piece sleeves are bigger than the front, due to the kimono style. But we are just going for an approximate idea that it'll fit. It should. Especially because we are working with stretch fabrics.)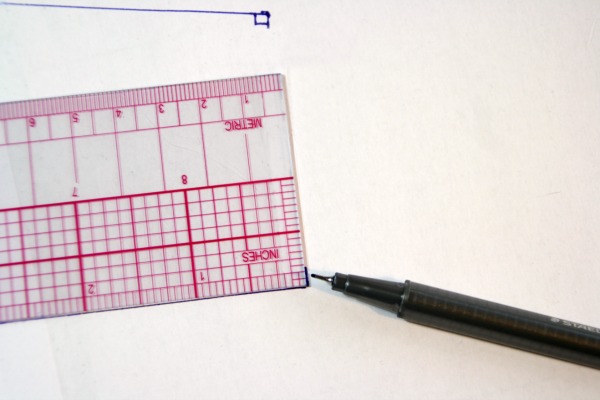 Now. Here comes the only tricky part – and it's not really that tricky: We need to square of the hem of the sleeves, so that the seams will sew nicely. It's simple. Use your ruler and make a 90 degree angle for about 1 cm.
Now we just need to finish by drawing the hem of the sleeve. Because of the right angles at the sleeve edges, the hem will be slightly curved. I use my curve to draw in the hem.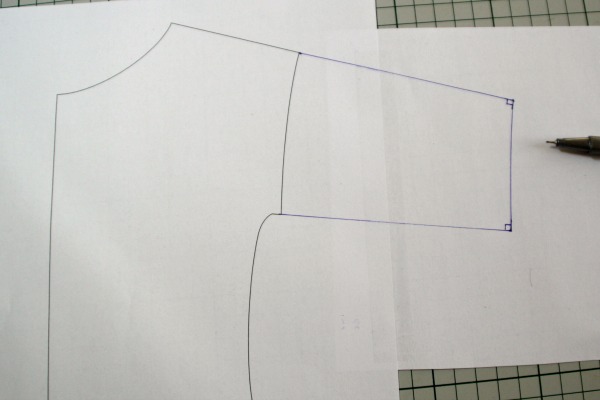 And that's it. Now you just have to do the exact same thing on the back piece, add seam and hem allowances and cut your fabric. And you are ready to sew up your MariaDenmark Kimono Tee with longer sleeves!
You might also consider different ways to finish the hem of the sleeves, instead of just turning them up and hemming them with a twin needle. Have you considered adding a cuff in self (or contrasting) ribbing (like I have on the photo above)?
When you are done, I would love to see a picture!
Do you have a sewing, drafting or fitting question you would like me to answer in my Q&A / Ask Maria (name still pending;-) installments?  Just ask me by emailing me at maria@mariadenmark.com and putting "Ask Maria" in the subject.