Let's sew a trench coat!
A trench coat is so versatile – depending on fabric choice, you can wear it for all occasions and in pretty much all kinds of weather (all though I would line it if I were to wear it in the snow).
This trench (from Sewing Life Magazine #1 – find it here for just 10$) is unlined, but you could totally line it if you wanted to.
It has in-seam single welt pockets or pleated patch pockets, back flaps, and shoulder and sleeve straps.  And of course, a very fabulous belt!
Sewing Life Magazine no 1 comes with the pattern for the coat PLUS the magazine with a bunch of articles on how to fit, style, and sew the coat – including step-by-step pictures for all the details.
During this sew-along, I will show you some of the tips from the magazine + link to tips that can help you on your sewing journey!
Sewing a trench coat part 1: Getting the pattern ready & fitting your coat!
STEP 1: Get the pattern ready!
A. Print the pattern
Sewing Life Magazine comes with a PDF pattern that you print at a copy shop service (24" or 36") or your home printer (Letter/A4 format or A3 format). If you go the print-at-home route, you will need to assemble the pattern.
See how to do that in this video:
B. Customize your size!
When choosing your size for your coat, it's important that you check your measurements and compare them to the size chart in the pattern. For Sewing Life Magazine, you can find the size chart on both the pattern sheet and in the instructions.
If your measurements fall in different sizes, you can start your own fitting process by merging between the sizes, as seen in THIS BLOG POST.
I like to trace my patterns onto tracing paper so that I keep the original sheet intact. But you can, of course, cut the pieces as well.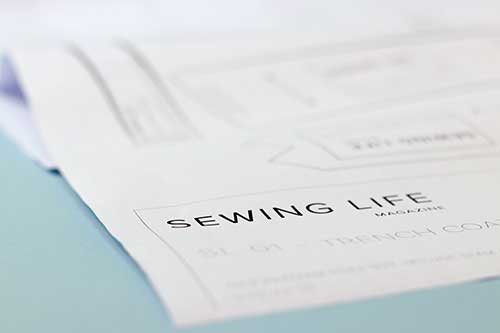 C. Add your custom seam allowances
MariaDenmark patterns (and that include Sewing Life Magazine patterns) do not have seam allowances included. That is because, to get the best fit, and to draft design changes, you need to work exactly at the seam lines. 
When you add seam allowances outside of the seam lines, you can always go back at work at the seam lines.
And another reason: You need different size seam allowances for different places. And it also depends on the technique you want to use. So when you add your own, YOU are the boss of the technique and the amount of seam allowance you prefer. 
I add 1 cm / 3/8″ to the seams and 4 cm (1 5/8″) to the hems. 
I like to add seam allowances to the pattern pieces before cutting them. It is so much more accurate than adding them to the fabric using chalk! Here's an easy way to do it: 
When the seam allowances have been added you are ready to cut your pattern pieces and move on to cutting and sewing your muslin.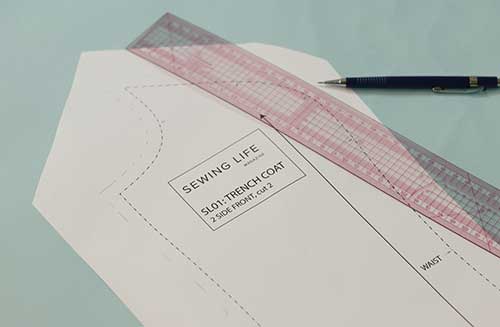 STEP 2: Sew and fit the muslin
I always recommend that you sew and fit a muslin. Especially for a larger project, such as a coat.
When you cut and sew your muslin, you don't need to sew the entire coat (although you can, if you want to for practice).
I just cut the main pieces (fronts, backs, side pieces, sleeves) in a fabric somewhat similar to the fabric I'm going to use.
I used a thin twill remnant from my stash for the body. I didn't have enough for the sleeves, so I cut those from muslin. Make sure you mark the center-front and waistline on your muslin.
TIP FOR SEWING THE MUSLIN:
The trench coat has princess seams.
This tip in the video makes them so much easier to sew :
Fitting your coat muslin
Once you have your muslin, you can evaluate the fit. I like to make a video of myself wearing the muslin – it gives me a more objective look of the fit when I'm looking at the video on my computer rather than just seeing it in the mirror.
Fitting help for your coat:
BLOG POST: How to easily fit princess seams
Sewing Life Magazine no.1 has an article on fitting your coat for a swayback and for adjusting the shoulders.
I am pretty happy with the fit of my coat.
The only thing I would like is for it to be a little more fitted at the center-back. So I am going to pin the center back until I'm happy and then alter the pattern more or less as described in the article.
DESIGN CHOICES!
While I have my muslin, it's also good to decide if I want to make any design changes to the pattern.
In my case, I realized that I want the coat to be a bit longer than the pattern – I want it to be about knee-length.
So I'm going to lengthen the pattern by about 20 cm or 8″ (see how to do that in THIS article). But other than that, I don't want to change a thing.
I am ready to get my supplies in order and cut my fabric.
We'll look into easy cutting and interfacing in part 2!