As part of Sewing Indie Month, I have had the great joy of interviewing Betsy from Skinny Bitch, Curvy Chick Patterns.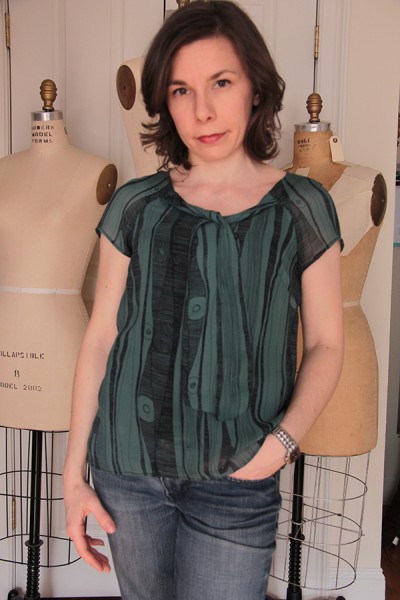 I was interested in working with Betsy because I love that she has specialized her patterns to fit a petite body type, and even has her patterns made in petite plus size, which is a very difficult thing to do well (which is why it is really hard to find great plus sized patterns!). But Betsy has nailed it! And I want to learn it, too, so I tried to sneak out some hints from her:-)
Here's the interview:
Maria: Hi! Tell me something about your self and how you got into patternmaking..

Betsy: My Name is Betsy, and I am 32 years old (I am to the point now where sometimes I forget if I am 31, 32 or 33, lol!).
I spend 90% of my time working and socializing in NYC, but call Hoboken, New Jersey home (as does Frank Sinatra and the Cake Boss). It's a quiet town just across the river from Manhattan where I can walk down the street and meet many friends along the way.

I went to The School of the Art Institute of Chicago where my focus was for fashion design, during which my interest in patternmaking came alive.
At the time the core curriculum really didn't offer a lot for patternmaking technique, but I took the knowledge that I did have and eagerly/naively sought work doing any random project that came my way.
As a student with only a couple of semesters of skill under my belt I made tons of mistakes, but it was the best way to learn.

The day after I graduated SAIC I was on a plane headed for NYC as a paid intern for Sara Lee, who at the time, owned, Bali, Playtex and Wonderbra.
It was an eye opener into the world of lingerie and how it was made. I had access to anything I wanted and everyone was very eager to teach.

I decided to stay on in New York after my internship was over and took my first official position as a patternmaker. I was  in way over my head as my skills were not, lets say, mass production friendly. However, I had great mentors and a room full of either very patient or surly sample makers, depending on how badly I screwed up, that really showed me the way things should be done.

I started out in the garment industry at a boom time when there were lots of jobs available for someone young and eager, like myself.
I took full advantage, hopping around for a number of years learning more from other companies and patternmakers who's skills still blow my mind.

My job title has evolved away from patternmaker over the years, to more of a technical expert I guess you could say. My professional interests have become more focused on quality control, solving problems during garment production, and all of the minutiae involved in manufacturing. I have been with my current job for 6 years now, but I always go back to patterns and cannot resist when someone calls asking for help before fashion week for a glamorous project. I am a pattern addict.

Maria: I can't wait to see New York! I'm going this summer, and we are actually going to stay in Hoboken. We've heard so many great things about that area!
You had great training with working in the industry for so long – it sounds very interesting!
With your pattern company Skinny Bitch, Curvy Chick (love the name, by the way!) you have specialized in making patterns that are drafted for specific body types and sizes. What prompted you to get the idea for that?

Betsy:  I have a bit of O.C.D with making things, especially patterns.
It took me a little while for my denial to subside, but I finally gave into the fact that I am just not getting any taller, and at 32 years old I have little chance of another growth spurt.  I am petite, and I have accepted that. I started noticing around me that a good portion of the female population is petite as well (some studies say 70% of the population is petite in some manner).
If you are a stickler for fit, like myself, there is not a lot out there for petites that do not require multiple alterations for both ready to wear and patterns. I wanted to make styles that are shorter in the torsos so the armholes and necklines are not so low and perhaps offer a better solution for pants that aren't droopy because they are too long in the rises. Sometimes the overall look is just too much for a petite body and I know petites don't want to look like they are a kid in their moms clothes.

Now the plus sizes are a special addition to my petite patterns.
I myself am not a plus size, but I have had a lot of experience making plus sized patterns for the retail market. It really is a different approach then making the standard misses size range. There are additional considerations and functionality to keep in mind and the plus sizes female is really undeserved.
I like making the plus size patterns because they offer a challenge. Everyone carries their weight in different areas so the question becomes: how can I make a well fitting garment that will fit many different body shapes?  How can it be comfortable and still flattering for the curvy gals?  Petite is all about proportion and plus sizes are as well, so for me, they go hand-in-hand.

Maria: And I know it's really hard to do well. I only had 2 hours worth of training on how to work with plus sized patters, and it's really a very complex area, so there is an area where I really want to learn more, so there can be more flattering plus size patterns out there. Great work!

Which leads me to: How do you make sure that the larger size range – with the curvy-er sizes – fit in the same way as the smaller sizes?

Betsy: I have a loose formula that I like to follow for the initial pattern of how much bigger the plus size needs to be vs. the XXS-L size range.
I make additional considerations for the plus sizes, such as deeper darts for larger chests and some styles have a little less shaping at the waist, for instance. I have a size 4 dress form and a 20W  so I look at the muslins side by side to make sure they are visually cohesive as well.

Maria: We should talk more, so you can teach me ;-) But now I'm curious to know: What starts your process when designing a pattern? How do you get inspired? And how do you continue from there?

Betsy: I am always inspired by shapes. Sure styling is important, but for me it is the pattern shape that intrigues me.
I come across a silhouette that I like and then the pattern shape forms in my head. Lately I am into simple shapes that make complex styles, but also new-ish styles that are classics with a twist. Also, I love the idea of anything that can be whipped up and sewn together in no time so that has really driven my process thus far.

Maria: Which step in the pattern design process is your favourite?

Betsy: I like making the first draft of the pattern. It is like doing a quick sketch. I generally have plan of what I need to do, but I am always surprised at what I find out during the process and what I can learn from it. It is a springboard for lots of opportunity.

But I would have to say my second favorite part is grading. I love to flex my brain, trying to solve a very complex problem. Grading too is a puzzle. I like to think of it like a Rubic's cube, twisting and turning until all the pieces align the way they should. It is very satisfying to find everything aligned perfectly, and as they should be in the end.

Maria: I love the first draft and sew-up of the pattern, too. Grading is difficult to do right, but I always feel so accomplished when I have done it well:-)

Which one of your own patterns is your favourite?

Betsy: That is a tough one. Even though the process was torture, maybe I would say the Manhattan Trousers.
There are many oddly shaped pants patterns out there, which has resulted in a lot of fear about sewing pants.
Sewers just assume the problem is them, but the shapes are not the best to begin with (I am not saying mine is perfect, though, either- but it is a step in the right direction). I have really worked hard (maybe 15-20  muslins in numerous fabrications over a years time) to come up with a shape that can work for most petites.

Maria: I know. I am right now working on getting a jeans pattern right. And it has taken me ages and 10 muslins to get to a point where I'm sort of happy with the fit. And I still have some more work to do on the draft!

I have so enjoyed talking to you, now tell me (since you know, I'll be in New York soon..) Since you work and live in the New York city area  you must have some travel tips such as must see fabric stores or other fashion related things that are must-sees?

Betsy: My go to fabric store is Mood. It has everything I need and good quality. I always recommend the trip. You will not walk out empty handed.
For trims I like Pacific Trims and M &J Trims.
For supplies I like to check out Sil Thread. As for fashion, anytime I am looking for inspiration, my first thought goes to Saks Fifth Ave. (they are not too snooty  there :).
I love to wander around Soho and pop in and out of small designer boutiques. It is a feast for the eyes.  Oh, one really awesome place to check out is ABC Home. Their main floor is a mix of homegoods, accessories and some clothing, but a really diverse selection.

Maria: Thank you so much, Betsy! I can't wait to meet you IRL – and to go to all the shops and experience New York. I better pack lightly on my way there!
I hope you guys enjoyed the interview as much as I did!
Now. You should go check out Betsy's site and blog! She even has a FREE petite or petite plus t-shirt pattern for you!