Finally!
After months of drawing, drafting, cutting, printing, sewing, muslining, correcting, sewing and finally grading and writing (and you guys waiting), Edith is ready!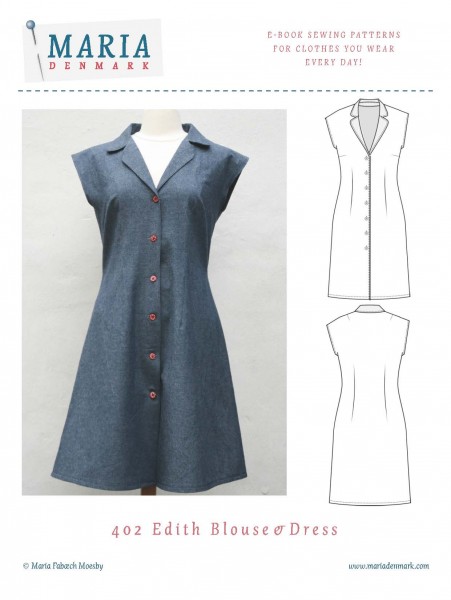 I was first inspired to draft and sew the Edith blouse, when I was looking through a photo album with pictures of my paternal grandmother ("Farmor" in Danish) from the mid 50s. So I named it after her.
Unlike what you see in tv series and movies, the dresses my farmor and her sisters wore were not as moviestar elegant and had much less width in the skirts. But the rounded collar and lapel details were really flattering and was just what I wanted. I didn't intend then to make a pattern to sell, but when the people on twitter said they wanted one, I decided to give it a go.
And here she is, finally!
So what is she like? Why should you make your own Edith?
Well, she is an absolutely timeless blouse or shirtdress, with softly rounded collar and lapels and is very flattering to all body shapes. She gently skims the curves, and you can wear her anywhere for any occasion – with out ever getting tired of her company.

Wear the blouse with skinny jeans or trousers for work or play and the knee length dress for a night out or for shopping, depending on your fabric choice. Put on a close fitting  cardigan to match the style in the autumn and winter. For hourglass or pear body shapes: Wear a belt with the dress to emphasise your tiny waist.
So how can you get this lovely pattern? You can get it right HERE!

Oh, and I promised that you can win fabric!
That's right! If you like the blouse I'm wearing at the picture above, you can win enough of the exact same fabric (95 cm of red polka dot cotton poplin) to make your own + some extras!
Here's how: Talk about this pattern and/or share this blog post link (you can use the buttons at the end of this post) on Twitter, Facebook or on your blog and leave a comment telling me you did so before midnight CET August 10th 2013, and I'll draw a winner randomly next Sunday..