Sometimes you just come across a pattern where a traditional Full Bust Adjustment (an FBA) might be complicated due to cut lines or other things that makes it difficult to do the cutting and spreading of the usual FBA..
Sometimes you just want a really fast full bust adjustment method that'll work with no-dart fronts and that's what I'm going to show you today.
The pros for using this method is that it's incredibly fast, requires no fiddling with the sleeve seam or side seam lengths and that it really works very nicely – especially with t-shirts and other knits.
The cons are that this method doesn't add length to the centre front as other full bust adjustments does, meaning it's only suitable for smaller adjustments (or you can add extra length to centre front and curve the hem up to the side seam, but the amount is hard to guess – allow for a toile or two)
What is a Full Bust Adjustment?
I think I'll start by explaining what a full bust adjustment is and why it's such a great fitting tool (you can skip this part if you are already a fitting pro, but for any new sewers I think it's important to refresh:-)).
Let me move back to square one for a moment, to explain why anyone might even need a full bust adjustment: Most sewing patterns are drafted for a B-cup bust. This means that at some point people have collected all sorts of measurements, and decided that a person with a shoulder of that length and that back width would have a bust measurement of that if she had an (at that time) average B-cup bust. A B-cup bust in this context is commonly defined as a bust where the difference between the high bust measurement and the  full bust measurement is 2 – 4 cm. Which is not very much. And not the average any more.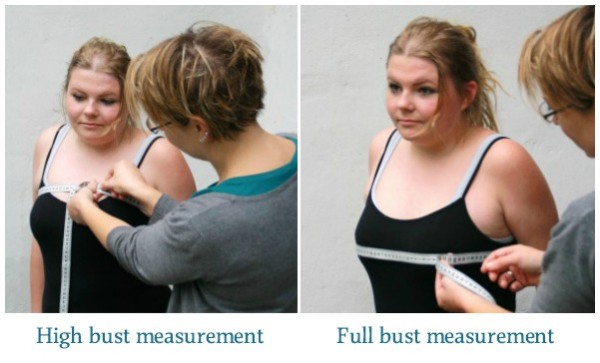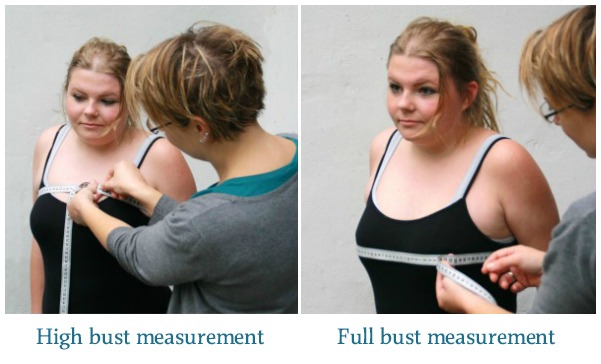 The problem is, that most patterns are still drafted for B-cups, and this means, that if you have a larger bust than what the pattern is drafted for, you need to choose the size you should have if you did have a B-cup bust, and then make room for the larger bust you have. This will make the top or dress fit better everywhere.
The Easy Turn and Slide Full Bust Adjustment Method
Disclaimers:  A) This method works best when the adjustment is less than 10 cm / 4 inches total and is best with a no-dart front pattern.
B ) I'm working in cm. I'm a metric kind of woman. I've tried to translate measurements into inches as well, but it might not be accurate – I can't get my head around the fractions…
Here we go:
Step 1: Figuring out how much to adjust for.
To figure out how much Full Bust Adjustment you need to do to the pattern, you need 3 measurements: Your high bust measurement, your full bust measurement and the full bust measurement from your corresponding size on the pattern size chart.
First your full bust and your high bust measurements. We need those to establish IF you need the FBA and WHAT SIZE you need to use as a starting point.
Example: My high bust is 86 cm (33 3/4 ") and my full bust is 91 cm (36 1/4"). This means I have a difference between my high bust and my full bust of 5 cm. And since 5 cm are more than 4 cm (the amount patterns usually allow for), I'm going to need a Full Bust Adjustment.
Now to figure out what size I need as a starting point: With the need for FBA established, I now need to refer to the pattern size chart to find the best size for me. I'm using The MariaDenmark Birgitte Basic Tee as a reference here, but this goes for all patterns!

The important thing here is to remember to choose the size according to your high bust measurement!
If you fall between sizes, like I do – my high bust is 86 cm, you might recall –  it's my experience from many, many fitting classes, that most people should choose the smaller size!
Which means, I'm going to go with the XS in this example.
The XS is made for a full bust measurement of 84 cm, as you can see. My full bust is 91 cm, so I need to add 7 cm total to the bust on the pattern.
 Step 2: Get out your pattern front piece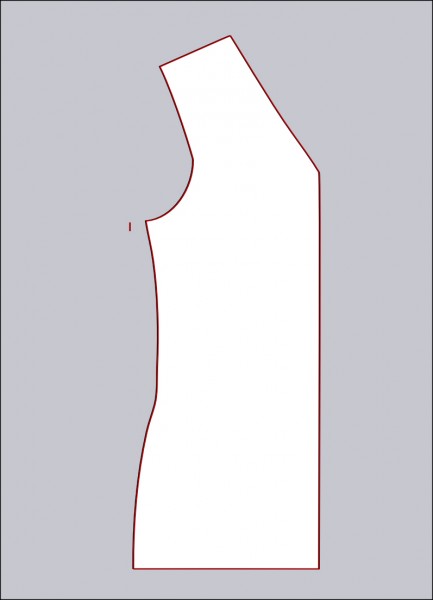 NB: We are only working on the front piece (you can always work on fitting the back piece later, but that's a different blog post altogether). That's because the boobs – which are what we are making room for actually, you know, are placed on the front of the body:-)
Get out your front piece (with out seam allowances!) and place it on a new piece of tissue paper. Trace around your pattern piece.
That done, we need to make a marking on the tissue, to get ready for the turn-and-slide. We are working on half a front. Since I was going to add 7 cm total to the bust, I'm going to make a mark 3.5 cm (half of the 7 cm) out from the bust line.
Now we are ready to roll!
Step 3: Slide… slide away..
Now place a pin (or your finger. To be honest, I always just place a finger firmly) on the outer corner on the shoulder (I've tried illustrating that with a dot on the drawing) and slide the pattern piece until it meets the marking you made.
Put something heavy on top of the pattern piece (like a pattern weight, a can of tomatoes or a candle holder) to keep the piece in place, and then trace the new armhole, using a different colour than you used in the first tracing (here I'm using blue).
Step 4: Turn and slide back..
Without moving the pattern piece (but remove the pattern weights), move your finger to the point where the armhole and the side seam meet.
Press down firmly, and then slide the pattern piece back, so the pattern comes back to the same hip width as before. If you know that you will need more width below the waist or at the hips (you can always measure and compare with the pattern measurements) you can choose to not slide the pattern pieces all the way back.
Trace the new side seam (with blue, here).
Step 5: You are almost done…
Just trace the original shoulder line and centre front line and the neckline in the blue colour (or whatever colour you are using), and you are ready to add seam allowances to the new blue pattern and cut.
You can see that the original (white traced with black) pattern piece and the new piece only differs in that there is more room at the bust (and a little bit over the waist). The neckline, shoulder and side seams are the same.
I always have to add a bit to to both the front and back side seams.
Fast and easy – but remember, only for the smaller full bust adjustments…