Seems like I'm always running behind schedule. Well this time I had a proper excuse. Friday afternoon I had an allergic reaction to avocado (and I've eaten tons before with out any problems) and went to the hospital for the night. I'm okay now – but still a bit tired (might also be the antihistamine:-)). Anyway It was a scary experience and all this let to the release of this pattern being delayed – but now it's here.
And I'm very happy to present:
The MariaDenmark Day-To-Night Drape Top!
Find it at MariaDenmark.com and on Craftsy!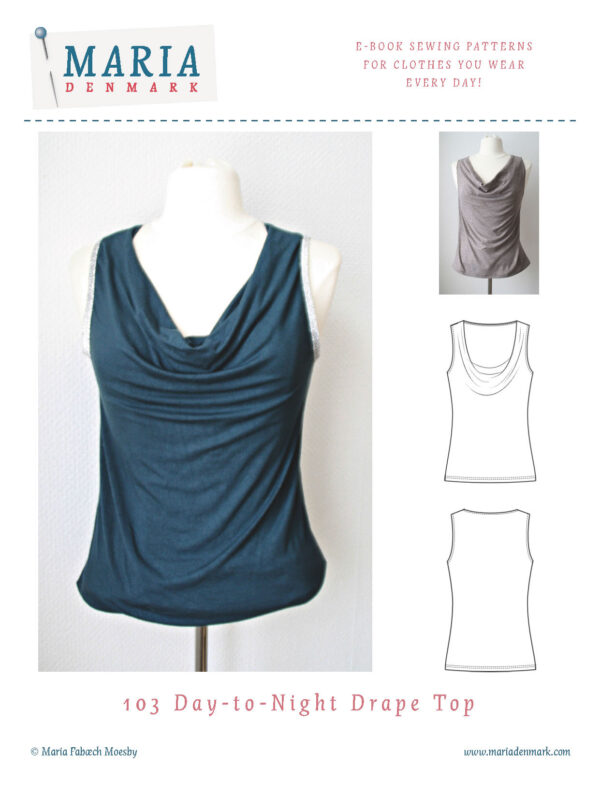 If you liked the free Kirsten Kimono Tee Pattern, you are going to absolutely love this one! This top is as easy, fast (takes me about 65 minutes cutting to hemming) and uses very little fabric (under 1 yard – in all sizes!).
I wear it with jeans and a knit cardigan with flat boots during the day (it is winter here, after all) and put on some heels and a bunch of silver bracelets for night on the town (well. okay, for a party with friends. I rarely go out for a night on the town…:-))
Anyway. What do you think? How would you wear it?
I'm loving this pattern. Also… The sleeves from the Birgitte Basic Tee fit perfectly with this pattern, so if you like, you can make all kinds of new combinations!
The teal top in the pattern photo is made from a modal jersey and back neckline and armholes are finished with a fun silver Fold Over Elastic.
The brown/gold version is made from a rayon/polyester blend containing 5 % spandex and back neckline and armholes are finished with invisible elastic.
And now to the really fun part: The first four people who review this pattern at either their blog, Patternreview, Craftsy or Kollabora and leave me a comment about it (with a link) in this post will recieve 1 free MariaDenmark pattern of their own choice + a nice surprise sewing package!
They are found! Have a look at the posts from Scruffy Badger, Sew Busy Lizzy, Suzy Bee Sews and Darry Do!
Now get sewing! You'll be wearing your new top in no time! Find the pattern at MariaDenmark.com and on Craftsy!
What do you think?